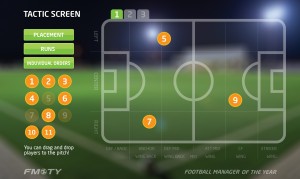 Football Manager Of The Year is a manager game combining the traditional manager game with elements from role play.
Your previous experience, abilities and tactical understanding give you the opportunity to develop a football club and lead it to new heights.
We wish to focus on the manager and give you the necessary tools for the job. Every manager is unique – you therefore develop your competencies differently from other manager during your carrier. This determines the experience you gain and the directions in which you focus your development. The directions can include economy, development of players, tactic, man management, public relations etc.
To give you the ultimate gaming experience, we use feedback from users of other manager games to improve FMOTY.
The experience that you gain from playing can be used actively and thus varies your overall gaming experience.
Test your abilities as a football manager.
Compete against other managers to be the best.
Constant challenge and opportunities for development.
FMOTY is sold digitally which only requires server capacity and no high-powered computer is needed to play.